Ukraine is reportedly deploying autonomous drones on the battlefield that can autonomously identify and attack military objects.
New Scientist reports that Ukraine is testing the autonomous quadrocopter drone "Saker Scout". The drone can either be manually operated, used as a reconnaissance drone, or sent to the battlefield as an autonomous attack drone. It can carry three kilograms of explosives up to twelve kilometers, destroying even heavy tanks.
According to New Scientist, Ukraine is using the drone in autonomous attack mode: it is the first confirmed use of a "killer robot," the website says.
The drone only attacks objects such as tanks, not people. However, the explosions could kill people without a human giving a kill order first, according to New Scientist. So far, there have been no confirmed casualties from the use of the drone.
From civilian to military
Ukrainian company Saker has turned to developing military AI drones following the Russian invasion. The company originally intended to develop AI services for businesses. Saker's drone is said to be able to identify 64 types of military objects.  The company confirmed that its drone's autonomous mode is being tested on a "small scale."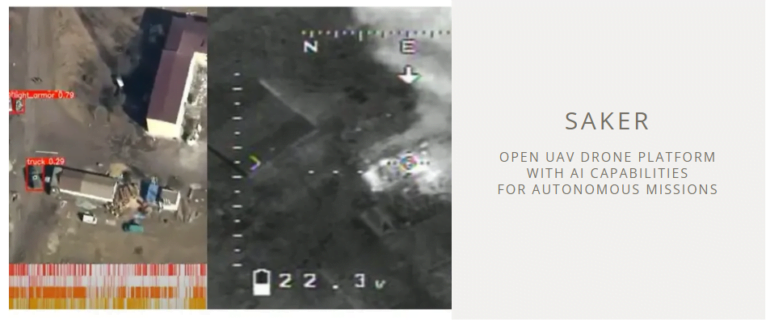 Ukraine's use of drones equipped with AI capabilities was confirmed in July by Mykhailo Fedorov, Ukraine's minister of digital transformation. "These drones are equipped with AI that will help to effectively recognize and then destroy Russian targets," Fedorov said.
Since the war in Ukraine began, it has also served as a test bed for autonomous weapons systems and AI technologies, demonstrating how AI can transform military conflicts. The Ukrainian Army uses the Turkish Bayraktar TB-2 and civilian drones, among others, for reconnaissance and combat missions. The U.S. has also supplied Ukraine with 100 Switchblade suicide drones.
Lessons learned from the war in Ukraine have prompted the U.S. Department of Defense to push for the development of effective countermeasures against cheap autonomous drones, which can undermine traditionally expensive and conventional means of warfare. In the Ukraine conflict, for example, a cheap $2,000 DJI drone reportedly knocked out a multimillion-dollar Russian T-90 tank.